Should I Do an Internship? Is this a burning question? It's an incredibly important decision . . . and we want to help! It's the topic for the next live interactive webinar in drip.vet's Modern Mentorship in Successful Practice series designed exclusively for veterinary students in preparation for entering practice or an internship.
There are right reasons and wrong reasons to enter an internship. What are those reasons? Let's discuss!  Will an associates' position in private practice give you the mentorship that you need, or should you intern? What are the advantages and disadvantages of an internship? Should COVID change your decision? We will discuss these questions and more. At the end of the discussion, you should be more prepared to make this very important decision.
This free webinar is at Noon Central Time on December 16, 2020, and is co-sponsored by the Iowa State University VBMA Chapter — for which you receive BCP Category 3 credit. Here is more information on the webinar series and the series signup form.
When you join the series, you become eligible for our special random giveaway drawings. Thus far, we have given away three Cardiology IV stethoscopes and more than $100 worth of scrubs. The next webinar will have another drawing for a Cardiology IV stethoscope and gift cards for scrubs.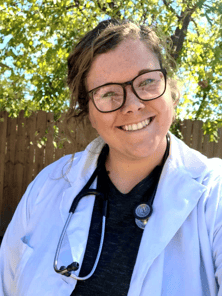 Texas A&M third-year veterinary student Breanthony Baker (pictured here) is one of the stethoscope winners.
"I not only have a better understanding of the various forms of mentorship, but (I now know) that setting clear mentorship expectations post-graduation is key. Through this mentorship webinar series, I have gained strategies for achieving a high-quality mentorship because I better understand that communicating responsibilities within a mentor/mentee relationship is needed, that short- and long-term goals should be made, and that fostering non-technical skills (i.e. work-life balance) is just as valuable as developing clinical skills," Breanthony told us. 
"Many thanks to drip.vet and Alliance Animal Health for making this learning opportunity available, I look forward to the next session!" she said.
Our Modern Mentorship series prepares you for success in your first year out of veterinary school. It will help you find the mentorship opportunity that you need and want. Hundreds of veterinary students already have participated in the webinars.
To date, topics covered have included a general overview and introduction, the mentor/mentee relationship, the characteristics of a good mentorship program, and balancing mentorship and practice. Following Should I Do an Internship? on December 16, topics to be covered in the future are Negotiating for Mentorship and a closing set of topics determined by you, the participants.
If you missed previous webinars, you can catch up on them at this online archive, which you may continue to access after you join the series.